Blog
Since I grew up in Sunny California, SeaWorld, has always been a favorite spot of mine.  As a kid, my parents would take me there every summer, and now that I have kids of my own I am carrying on the same tradition.  So just when I thought my kids might be outgrowing SeaWorld, they went ahead and added a new roller coaster ride  called, Manta, which not only excites my 15 year old son, Brenden, but I actually like it too.  It's not a crazy, upside down, herky-jerky, roller coaster, but a tickle your tummy, fast kind of ride.  It's...
read more
I grew up in Southern California and can't believe that it took me moving to Arizona to discover the most amazing vacation spot just miles from where I grew up in CA.  It's called Campland on the Bay and it's located in San Diego along Mission Bay.  I talked to so many families that had been coming to Campland since they were young kids, and now they are lucky enough to be introducing their kids to this amazing place.  What I loved about Campland on the Bay was how all ages were able to enjoy themselves.  The kids were kept...
read more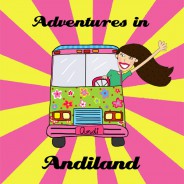 I always thought of Oriental Trading as a place to go to find party supplies for my kids birthday parties, but I recently discovered they are so much more then that. After deciding to throw a "girls day in" party to escape the Arizona summer temps, and also visit with friends, I reached out to Oriental Trading for some party ideas, and I'm sure glad I did. Take a look at the video and see for yourself how easy it can be to host a fun and inexpensive "girls day in"...
read more